Johnny Martin was the King of nighttime radio for 17 years, from February 18, 1963, until June 2, 1978 on KRMG, Tulsa.
Because he was a musician he could talk about the background of the big-band era. "Here's my favorite blonde" was his introduction to Peggy Lee. "The big redhead form Kansas City" was Marilyn Maye. If he introduced a song by Jo Stafford or Johnny Ray, he would suggest "if you don't remember this one, it's past your bedtime."
Johnny's Zippo lighter could be heard as he lit cigarettes during his five-hour show. At the end of his show he would say "it is time to close the pool hall" with Eddy Howard singing "So Long for Now" and Johnny would say "It's time to turn the page and mark 30."
Some of his favorite phrases:
"A musical welcome wagon for the big boys and girls"
"This show is not recommended for children"
"And now there's nobody left, just thee and me, and I'll think of something"
And of course: Friday nights were known as "case night in the city, play night and I came to play"
He was only 56 when he died October 24, 1980 after a battle with cancer and emphysema.
---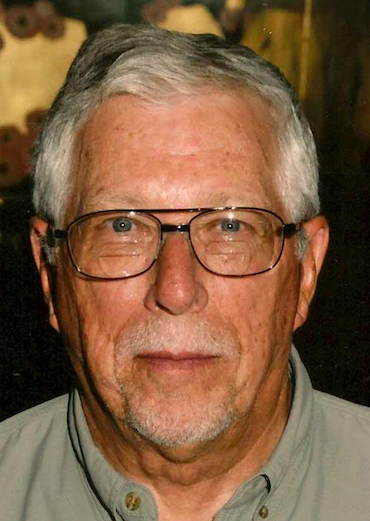 Ed Brocksmith
Ed was the News Director of KRMG. His time with the station, 1964-1978, was as an intern, full time news reporter and as News Director. In an interview recorded October, 2020 we asked him to share some stories while working as the night time newscaster for the Johnny Martin Show. (In an interview recorded October 2020 we asked him to share some news stories he reported on in the 70's which you can hear on the News Radio page.)
---
Don Cummins
News man Don Cummins played the part of Dear Gabby. Johnny Martin was in the studio blowing in Gabby's ear. From the 1970's
---
Birthday Greetings
Johnny Martin, Don Cummins, John Erling
---
Sunday Afternoon Weather
Johnny Martin doing the Sunday afternoon weather, brought to you by Ugh! U-Need-Um Tires.
---
Pigskin Picks
November 5, 1976 – Johnny Martin with sports writer Jay Cronley.
---
Moskowitz Furniture
November 5, 1976
---
Keep the Faith
Johnny Martin – November 5, 1976
---
Martin's Last Show
Don Cummins, John Erling and Johnny Martin talk about Martin's last show on June 2, 1978
---
While this website is not affiliated with the broadcast legend KRMG, it is a tribute to the station and all who worked there during the 1970's through the early 2000's