Erling in the Morning entertained and enlightened the citizens of Tulsa and the surrounding areas for over three decades. Broadcasting live on KRMG, the show featured news, engaging interviews, and more than a bit of fun.
The recordings you find here were preserved for many years, and are now being shared so that we may once again enjoy the memories of these days gone by.
---
(NEW) Coach Barry Switzer
With the recent visit of the Oklahoma Sooners football team to Skelly Stadium and the game with Tulsa University Golden Hurricane on September 16th, 2023, I was reminded of an interview I did with Sooners coach Barry Switzer prior to the game on Saturday, September 26th, 1987.
Barry and the Sooners did more than "hang half a hundred", shutting out TU 65 – 0. Barry was a great interview, always willing to have fun as he displayed his very charismatic personality.
George Henshaw was the one-year TU coach, leaving for the Denver Broncos as the Offensive Coordinator the next year. T. J. Rubley was the TU quarterback, Jamelle Holieway the OU quarterback.
OU went on to win the Big 8 conference championship and lost to the Miami Hurricanes in the Orange Bowl, a national title game.
Listen to Coach Barry Switzer, winner of three OU national championships and former coach of the Dallas Cowboys, winners of Super Bowl XXX.
---
Tulsa Tribune
If you are from Tulsa, Oklahoma, you may still miss the Tulsa Tribune in your afternoon driveway.
With the passing of Jenk Jones Jr., August 23, 2023, the last publisher of the Tulsa Tribune, we are reminded how this great newspaper made a difference in our community through its investigative style. The final publishing date was September 30, 1992, and John Erling did his morning radio show on KRMG from the Tulsa Tribune offices.
Listen now to Jenk Jones, Sr.; Jenk Jones, Jr.; and tributes to the paper by John Erling and Paul Harvey.
---
Mother's Day Call (with explanation)
The Mother's Day call I made many years ago, designed to be an example for all to call their mothers, became a classic because the phone operator was very engaging in the process. This would never happen today.
What you will hear is my explanation to the audience, and to Joe Riddle and Rick Couri, and how the call played out.
---
Frankenstein Castle
1952
Every Halloween, Erling in the Morning on KRMG aired the Frankenstein Castle Broadcast – AFN's Halloween with Carl Nelson.
---
The Morning Show Calls Tehran
Recently, morning show producer Joe Riddle posted on Facebook his remembrance of January 20th, 1981. The day was the first inauguration of Ronald Reagan as the 40th president of the United States. It was also the day 52 American hostages were to be released. They had been taken from the US Embassy in Tehran in November 1979.
Joe wrote: "That morning John Erling had the idea to call the Pars News Agency in Tehran to ask what the status was of the American hostages? I got the number, country code and phone number. We called and John spoke to whoever answered in English. They, of course spoke in Arabic. No communication was happening. John kept getting handed off to another person. While this was happening, our phone lines at KRMG started filling up. Tulsans were mad!!! Fearful we could somehow screw up national international relations and jeopardize the hostage's chance for freedom."
That morning, the morning show crew was dressed as if we going to the inauguration. And as Joe wrote "we were only concerned if we had enough jellybeans on hand", since that was Ronald Reagan's favorite candy.
So, listen to the phone call that listeners thought would blow up international relations.
---
Ringing Endorsement from Margaret Erling
During the 1980 campaign for President of the United States, Barbara Bush spoke on behalf of her husband, candidate George H. W. Bush. She told audiences what a great guy he was, with family values. Marilyn Quayle did the same for her husband, Vice Presidential candidate Dan Quayle. So, I thought I would have my wife, Margaret, do the same for me.
---
Live at the 1996 Olympics in Atlanta
The 1996 Olympics were held in Atlanta, Georgia. Richard Dowdell, Rick Couri and John Erling broadcast from Centennial Olympic Stadium. They purchased tickets the day they arrived and began broadcasting as they walked in, without broadcast credentials. John and Rick spoke in hushed tones because they were sitting with the crowd. Some of those nearby were upset because Rick and John should have been quiet leading up to a track and field event. They were never challenged by an Olympic official.
It was at the '96 Olympics when security guard Richard Jewell saved many lives from an exploding bomb but was vilified by the press who falsely reported that he was the bomber.
Actor/director Clint Eastwood produced a film of the event titled "Richard Jewell". The bombing took place after the KRMG Fearsome Threesome attended, otherwise it is doubtful they would have been allowed entrance with radio equipment and without credentials, since security would have been much tighter.
---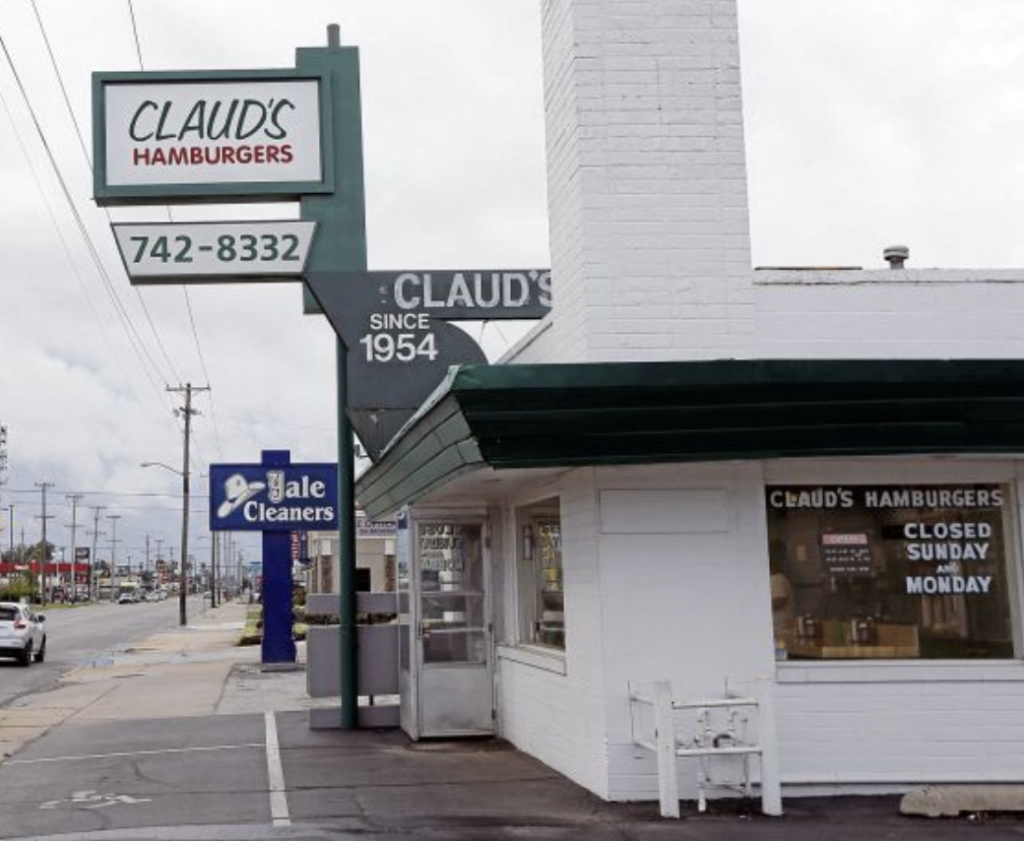 Larry Hobson of Claud's Hamburgers
Larry Hobson called to tell us about some of the celebrities who have eaten a hamburger at Claud's Hamburgers on Brookside in Tulsa. Leon Russel, George Harrison, Caroline Kennedy & Eric Clapton… just to name a few.
Have you seen any celebrities at Clauds?
---
Modell Phipps (Lee Gideon) – Stand or Sit
Modell Phipps, played by the talented Lee Gideon, regularly joined the program. On this occasion, Modell was calling in from Nelson's Buffeteria as they celebrated their 15th year in business.
---
Tips on Chewing Tobacco
A retired rancher called with tips on how to dip chewing tobacco… and how not to spit. He said he just "swallered" it.
---
Alaska Sports Guy
I have no idea where we found this recording but we would play it occasionally for a good laugh. You can determine if the guy was drunk or was just filling in for the regular sports guy. I am wondering if former KRMG Sports Director Bob Stevens was ever this good in his heyday.
---
Freeze A Yankee
An oil state's response to the energy crisis, "Freeze a Yankee" was recorded in 1978 by The Folkel Minority. The energy crisis of the 1970's, especially seen in North America, produced several songs including Freeze a Yankee. The song is about solving the energy crisis and the political events surrounding the event, including not drilling on the Continental Shelf, environment vs. cheap energy, etc.
As I recall, Senator Inhofe joined me on a phone call to a Massachusetts senator to play the song for him.
"Freeze a yankee! Drive 75 and freeze 'em alive. Freeze a yankee! Let your thermostat rise and give 'em a surprise. Governor Briscoe promised us that if any damn Yankee raised a fuss, He'd turn off the gas, cut off the oil, and let 'em all freeze and boil."
---
Seat Belt Interview
May 9, 1997, I was driving home from Grand Lake when I arrived at the scene of a horrific accident. Life-flight flew to the scene from Tulsa. One of the medics on board that flight discovered her son had lost his life in the accident because he was not wearing a seatbelt. I interviewed the boy's mother, Carolyn Hanig, and it was decided the story was compelling enough to make duplicates for distribution to the public on cassettes.
The cost was underwritten by the automobile dealership Crown Auto World.
Even though the interview is from the 90's, it is still relevant today.
---
Digger Phelps
In 1981 the University of Tulsa Basketball team won the National Invitational Tournament championship by defeating Syracuse University in overtime, 86-84, at Madison Square Garden, New York City. Digger Phelps was the Notre Dame basketball coach from 1971 to 1991. For 20 years, from 1993 to 2014, he served as analyst for ESPN.
For this game, Digger picked Syracuse to win and seemed to favor Syracuse throughout the game. Callers to the morning show were upset with Digger. I called Digger's home and left a message asking him to call the radio station. A week later he called, on April Fools day, 1981. We do not have the entire phone call but what we have lets you know how the call began. The nick name "Digger" comes about because his father was a mortician.
---
5,000 Pennies
John lost a weight-loss bet and paid off Ann Williams, show co-host, with 5,000 pennies.
---
"The Americans" by Canadian newsman Gordon Sinclair
On June 5, 1973, following news that the American Red Cross had run out of money as a result of aid efforts for recent natural disasters, Gordon Sinclair recorded what would become his most famous radio editorial, "The Americans". Sinclair was upset that when America faced a crisis, it often seemed to face the crisis alone. It became so popular the recording was sold as a single with all profits going to the American Red Cross.
"The Americans" went to No. 24 on the Billboard Hot 100.
We played it many times on Erling in the Morning, most notably after September 11th, 2001. With the crisis America is facing today, although the words were written years ago, it may be good to listen to Gordon Sinclair again.
---
Gailard Sartain
Born in Tulsa, Gailard became well known for the late-night local TV comedy program, "Dr. Mazeppa Pompazoid". He was discovered by a talent scout in 1972 and was hired as a regular for the TV program Hee Haw. He then went on to other TV programs and more than forty motion pictures. He is a successful illustrator with many credits, including a record cover for Leon Russell.
He appeared on Erling in the Morning and told the Joke of the day.
---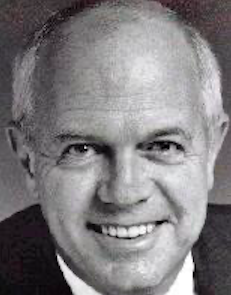 Modell Phipps
For several years, Lee Gideon called the station as Modell Phipps for his Friday morning visits.
January, 1990
December 18, 1987
---
John Erling's first morning on KRMG
Johnny Martin Promo – November 6, 1976
---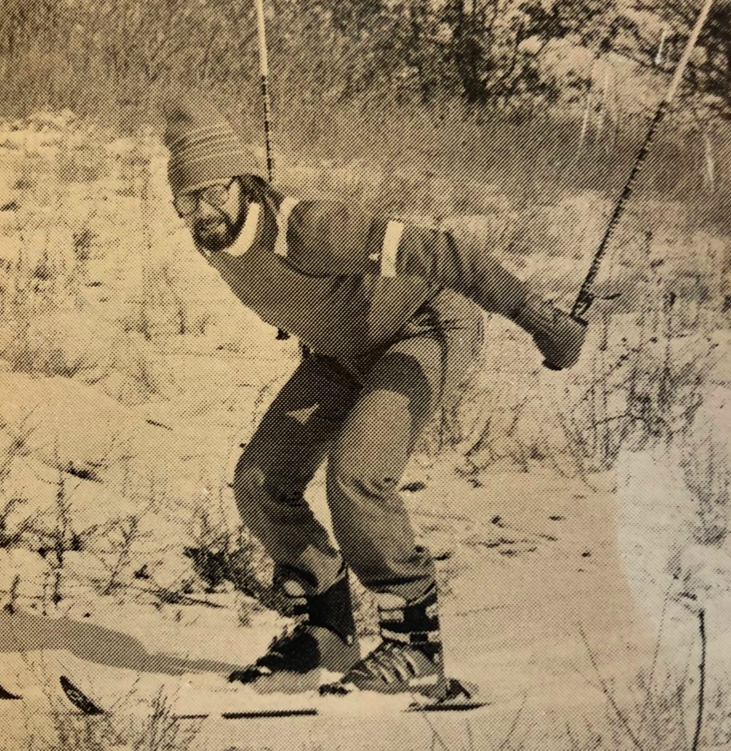 Tulsa Mountain Truck Driver
"Do you see mountains around here?"
---
---
---
Mayor Terry Young Hang Up
September 5, 1985
Mayor Young was defeated for reelection in the Democrat primary of 1986 by Tom Quinn. Republican Dick Crawford was elected the 34th Mayor of Tulsa in the general election.
---
Vince Sposato Stuck in Elevator
1980's
Vince Sposato lost seven bids for Tulsa Street Commissioner. He also campaigned for Water and Sewer Commissioner and lost.
Sposato got stuck in an elevator and told us about it.
---
Comedian Jerry Clower – Joke of the Day
1970's
---
15th Anniversary Promotional Announcements
---
The Saturday Morning Mess
1990's
This show featured Mr Bill from Bill's Breadbox. He would call to tell us about the weekly gossip of Kingfisher, OK. This call was all about garters and titled "The Garter Saga".
---
Ray Murphy
Call to Ray Murphy, who was paralyzed during a wrestling match at Oklahoma State University. He was unable to speak so we communicated with him on a "puff and sip" system. His words would appear on our computer screen. He lived 40 years beyond April 11, 1970 without the use of his arms or legs as a result of the spinal cord injury. Annual fundraisers were held by his fraternity and the OSU band. His church, Southern Hills Baptist, brought weekly meals and made donations to his medical bills. Erling in the Morning raised funds to purchase a van custom built to accommodate his special wheel chair. He attended one OSU football game a year and was nationally recognized as the Handicapped Person of the Year in 1989.
---
Joe Riddle, Morning Show Producer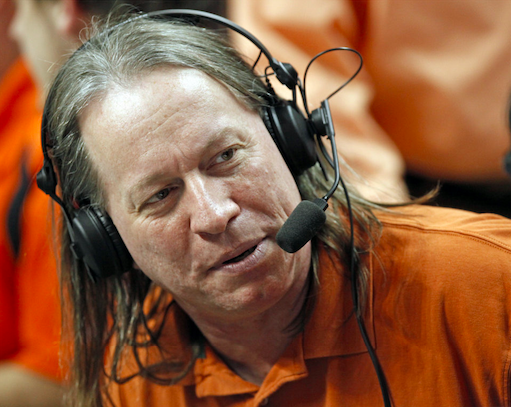 ---
While this website is not affiliated with the broadcast legend KRMG, it is a tribute to the station and all who worked there during the 1970's through the early 2000's